May, 29th
---
February, 22nd
---
February, 6th
---
November, 23rd
---
November, 7th
---
03:58 pm - ¨ gallery - second official show
After its summer break ¨ gallery is proud to present artist Ismael Duá (*1981) with a solo show.
Ismael Duá works in many fields, his only limitation being the format: DIN A4.
As we know, ¨ gallery is only 8 x 4,5 cm in size.
Be there at seven to get a cup of Glühwein and see the artist fold and unfold his ideas.
Afterwards Ismael Duá invites the guests over to his studio for drinks & discussion.


October, 30th
---
09:37 pm - myself is what i wear*
*from 'open house' by theodore roethke
September, 18th
---
05:06 pm - bric-a-brac


TAND - an exhibition together with my father
opening september 28th, seven pm, drop by if you're near!

Galerie ARTikel3
Rafaela Bohsung, Constance Strecke
Luisenstr. 68, 80798 München
Tel. 24290944
artikel3@web.de
Di 10-12, Do 10-12 und 16-19, Fr 15-18 Uhr



September, 6th
---
04:59 pm - Ahnen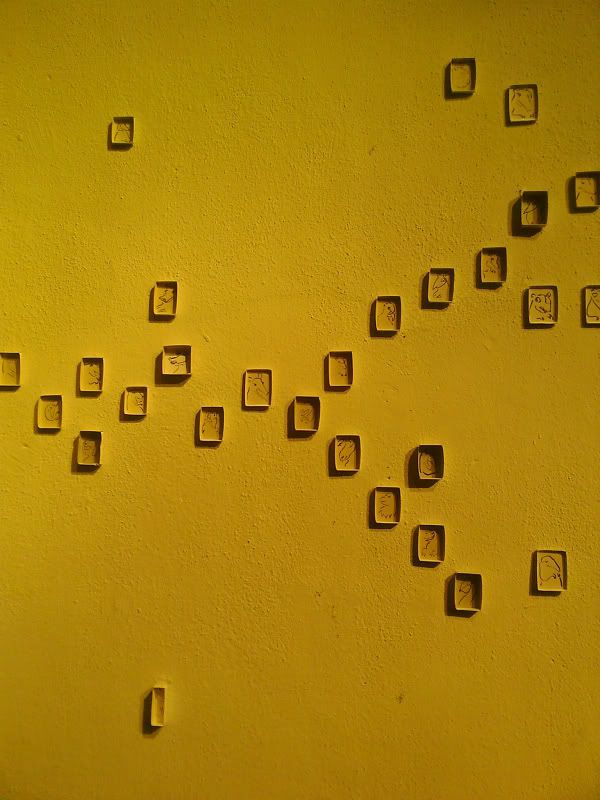 "Eine fiktive Ahnengalerie in leeren Streichholzschachteln, aus deren Rahmen unbekannte und unheimliche Geschöpfe starren,




spielt mit der Sehnsucht nach Zuordnung und Zugehörigkeit, sowie der Idee, dass 'Familie' sich aller Idealvorstellungen zum Trotz




manchmal als Horrorkabinett entpuppen will."



"A ficticious gallery of ancestors - creatures unknown and uncanny stare at us out of their matchbox-frames - toys with the desire for belonging and correlation as it does with the idea that 'family' - no matter how idealized - not seldom reveals itself to be a cabinet of horror and wonder."

shown as part of bubu nation vol. 32



(

*Collapse

)




August, 9th
---
July, 11th
---
07:39 pm - east of me, west of me, full summer*

*from a poem by charles wright
June, 25th
---
09:21 am - shall i uncrumple this much crumpled thing*
* from a poem by wallace stevens
June, 16th
---
June, 14th
---
June, 1st
---
02:30 pm - art is a guarantee of sanity
rest in peace, louise bourgeois!
May, 27th
---
May, 18th
---
May, 7th
---
05:16 pm - fearless
April, 28th
---
01:03 pm - invitation
"Zipor, Ziporim, Ziporra - ansonsten Danke und Liebe Grüße"
Opening
Donnerstag 6. Mai 2010, 19 Uhr
GALERIE LICHTPUNKT - AMBACHER CONTEMPORARY
Lothstrasse 78a | 80797 München

Show
7. - 21. Mai 2010
Dienstag - Freitag, 13 - 18 Uhr und n.V.
The image of the bird evokes ideas that are connected to the occult
and the surreal but it also touches a nerve of hopefulness,
perhaps an old and deep wish to be socially compatible.
It transports with a naïve certainty the idea of a more peaceful future.
April, 25th
---
April, 13th
---
March, 10th
---
February, 24th
---
February, 16th
---
12:32 pm - circus circumstance

my drawing appears on the cover of stimulus respond's circus issue!
there is more to be found inside along wonderful editorials and wondrous poems and stories.
thank you to jack boulton and the people at stimulus respond for doing a marvellous job there.
www.stimulusrespond.com/

February, 14th
---